SAP Work Manager:?AS the industry-leading work management application, the SAP Work Manager mobile app keeps
drills running
trucks hauling and conveyors rowing
increase plant and equipment performance
improve workforce productivity and safety
reduce overtime cost a main and?It's an unplanned downtime
All while getting a 360 degree view of company operations.
SAP Work Manager is buid for asset intensive industry applications integrated with your back-end software. It allows technicians to work smarter both online and offline by providing mission-critical data at the point of performance.
And with the latest version of SAP module plateform (SMP), SAP work Manager gets enhanced functionality for:
inspection rounds
linear Asset Management
integrated with both GIS and the SAP Mutli resource scheduling application.
Best of all, SAP work Manager is easy to use and works on any mobile device letting the company use the more relevant devices .
SAP Work Manager use Case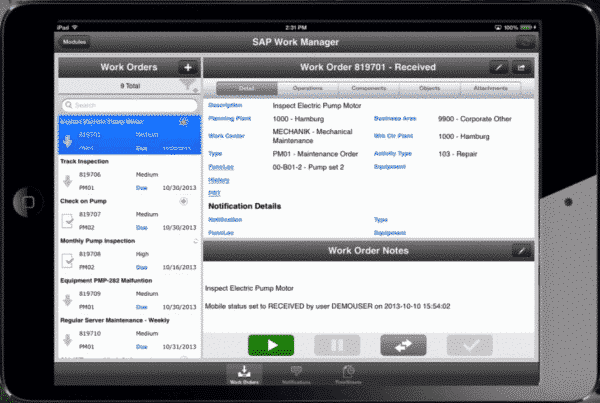 A Maintenance Technician uses SAP work manager throughout his day. With a single sign-on support, he doesn't have to remember multiple passwords regardless of which devices he is using.
All assigned work Orders are in iOS device in a simple five list.
He won't have to go back to the office to do paperwork.
Before he starts dealing with a new order, he can review the detail in the work order and any work history associated with the asset working on. By reviewing the past work, he effectively troubleshoot the repair.
This avoids costly repeat work and helps management identify failing asset before the cost down time.
He clicks the start button and his time working on the asset automatically begins. He can pause it and return to it later any time.
At the SAP work-site, he accesses the steps assigned to complete the work order in the operations tap.
Each Step done, he marks it as completed to make sure that all work is performed. This also supports the compliant reporting.
He adds the operations or components needed to complete the work order accurately reflecting the work and material required. Moreover notes can be added to provide observations describing the asset conditions.
When the work is completed, he selects the Finish button and if a signature is required he can sign the work order and enter the necessary information to finalize the order.
His Labor is calculated from the start and completion times entered and automatically recorded.
Now, all work orders are finished and all data will be sent with the company's back and software.
If the technician is out of signal range, the data will?sync?automatically when he gets wireless or cellular signal.
So the performance of the app can be improved by sending less data and is not constantly need to connect to the network.
So it can deliver highly responsible performance for the end user.
And optimizes battery life to cover the full shift
SAP Work Manager advantages
The SAP Work Manager will help companies
completing more work order in the same shift
Enhance safety
collect more comprehensive data
Lead to a reduction in maintenance
More resources for SAP Work Manager
SAP Work Manager (SAP.com)
SAP Work Manager Brochure

– SAP Agentry and Work Manager(s)