SAP BusType ( Object Type )
SAP BusType identifies Transaction Types for Business object.
Access Business Object
Transaction BAPI and search object by Hierarchy

Sales and Distribution -> Sales -> SalesOrder : BUS2032.
Materials Management -> Purchasing -> PurchasingInfo: BUS3003.
Navigate through hierarchy
Hierarchy of transactions like SWO2 or SWO3.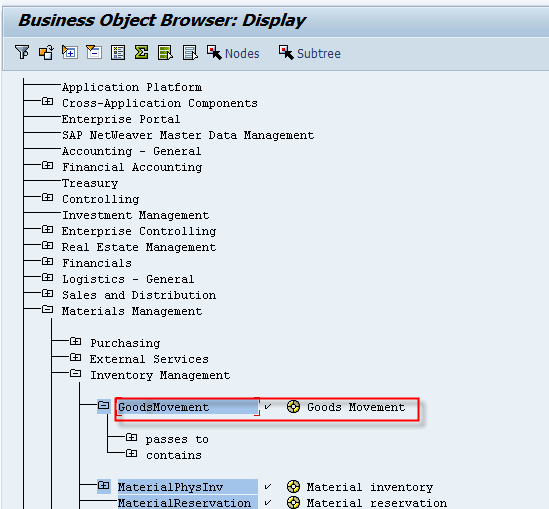 For Goods Movement, the Object Type is BUS2017.
In transaction SWO1
Development class/package is a selection field in F4 help (among others)
Table TOJTB
Business object repository: Basic data
Important SAP R/3 BusType
| BusType | Description |
| --- | --- |
| BUS1001 | R/3 Material |
| BUS1006 | Business Partner |
| BUS1006001 | Business partner employee |
| BUS1006002 | Business Partner Contact Person Relationship |
| BUS1006003 | Business Partner Employee Relationship |
| BUS1006004 | Business Partner Group Hierarchy |
| BUS1006006 | Business Partner Shareholder Relationship |
| BUS2012 | R/3 Purchase Order |
| BUS2032 | R/3 Sales Order |
| BUS2081 | R/3 Invoice |
| ADDRESS | Address |
Important SAP CRM BusType
| BusType | Description |
| --- | --- |
| BUS2000108 | Lead |
| BUS2000111 | Opportunity |
| BUS2000112 | Service Contract (service contracts &service contract quotations) |
| BUS2000115 | Sales (sales orders & quotations) |
| BUS2000116 | Service Process (service orders & service order quotations & … ) |
| BUS2000120 | Complaints |
| BUS2000121 | Sales Contract |
| BUS2000223 | CRM Service Request (service requests & incidents) |
Somes others ressources
Delegation and Redefining methods of business object BUS1001
Adding attributes to a BOR Object