SAP CRM Modules :?SAP Business Suite is a suite of Business Applications helping company to improve the chain between its business and its partners.?SAP CRM is a main component in this SAP Business Suite.
SAP CRM is focused on Customer or Partners. The aim of SAP CRM is to give 360? View for each kind of Partners by staying connected to Customers and answering the customers requirement with the right services or sales.?
SAP Business Suite component
Before dealing with SAP CRM Modules, let's define the SAP Business Suite: is bases technically on SAP Netweaver and offers the following components:
SAP PLM ? Product Lifecycle Management – focus on Material
SAP SCM ? Supply Chain Management – focus on Supply chain
SAP CRM ? Customer Relationship Management – focus on Customer
SAP SRM ?Supplier Relationship Management – focus on Vendor
SAP ERP ? Enterprise Resource Planning
SAP CRM Modules
SAP CRM is a part of SAP Business Suite focused on Customer. The main focus for SAP CRM are Marketing, Sales and Services.
SAP CRM offers differents interaction channel with customer: Internt client, mobile client, interaction channel …
SAP CRM is empowered by a CRM Analytics helping companies collect and analyse all the information about Transactions and Customers in order to take the right Strategic decision.
Check also?SAP CRM Wiki?for more SAP CRM Technical
The SAP CRM Modules list or the SAP CRM features are: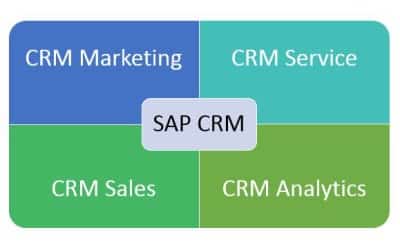 SAP CRM Marketing
SAP CRM Marketing is the main component of SAP CRM Modules?. It offers:
Lead Management
Compaing Management
Customer Segmentation
Trade Promotion Management
E-Marketing
Marketing Analytics
SAP CRM Services
SAP CRM Services begins with answering Customer's query. It covers also billing and confirmation.
The main functionnality of SAP CRM Services are:
Service Request
Service Order
Contact Adminstration
Complaint Management
Installed Base Management
Workforce Management
Services Analytics
SAP CRM Sales
SAP CRM Sales covers all the Sales activities for lead to finalizing Sales. It includes:
Account and Contact Management
Opportunity Managment
Activity Management
Sales Analytics
SAP Hybris
SAP Hybris helps Bringing Digital Transformation To SAP
The vendor attempted to get front office traction with its Web Channel Experience Management system with limited success, which led to the 2013 acquisition of hybris.
Now as part of SAP, hybris offers customer data management, context driven marketing tools and unified commerce processes.
Here an excellent article about Hybris.