SAP CRM Data Exchange Toolbox offers some useful functionality for SAP CRM Order replication between R3 and CRM and also offers Sales Documents useful tools.
SAP CRM Data Exchange Toolbox Program
In order to launch the SAP CRM Data Exchange Toolbbox, run the standard report in SAP CRM ( SE38). The name of the the SAP Report is CRM_DATAEXCHANGE_TOOLBOX.
Once executed, here the screen.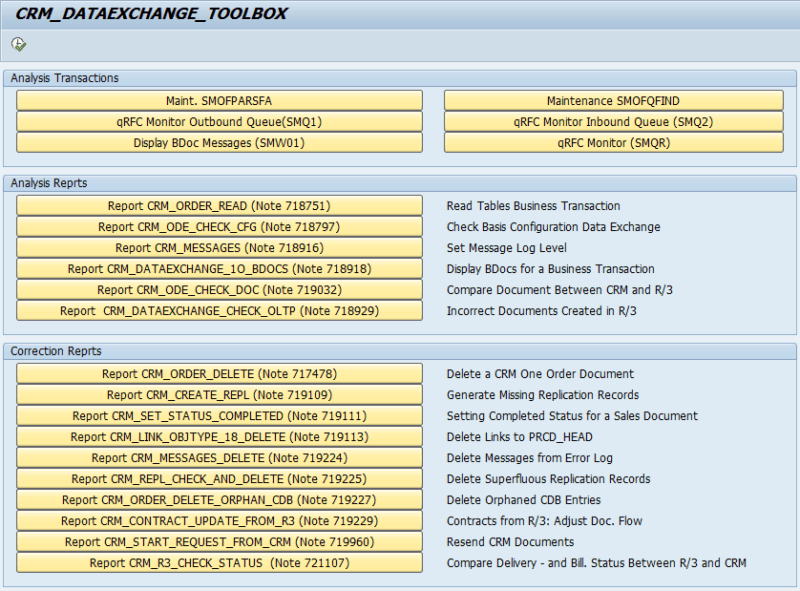 SAP CRM Data Exchange Toolbox functionality
Find following the different functionality in the Exchange Toolbox.
Maintain. SMOFPARSFA
This button runs the maintenance view (SM30) for the SAP CRM table SMOFPARSFA. It allows maintaining the Middleware Parameter such as:
Key
Paramname (up to 3 SAP CRM Middleware parameters)
Name
ParamVal
Comment
Maintenance SMOFQFIND
It allows direct access to maintain the SAP CRM Table SMOFQFIND. This view handles the Queue Fuinder Table for MW-Queue finder.
As keys for this view, we have:
Bdoc Type
Sort Order
Name
qRFC Monitor Outbound Queue(SMQ1)
Run the qRFC Monitor for Outbound Queue. Behind, it runs the SAP Tcode SMQ1
qRFC Monitor Inbound Queue (SMQ2)
Run the SAP Tcode SMQ2 for qRFC monitoring Inbound Queue.
Other SAP CRM functionalities in Toolbox
Display BDoc Messages (SMW01)
qRFC Monitor (SMQR)
Report CRM_ORDER_READ (Note 718751)
Report CRM_ODE_CHECK_CFG (Note 718797)
Report CRM_MESSAGES (Note 718916)
Report CRM_DATAEXCHANGE_1O_BDOCS (Note 718918)
Report CRM_ODE_CHECK_DOC (Note 719032)
Report CRM_CREATE_REPL (Note 719109)
Report CRM_SET_STATUS_COMPLETED (Note 719111)
Report CRM_LINK_OBJTYPE_18_DELETE (Note 719113)
Report CRM_MESSAGES_DELETE (Note 719224)
Report CRM_REPL_CHECK_AND_DELETE (Note 719225)
Report CRM_ORDER_DELETE_ORPHAN_CDB (Note 719227)
Report CRM_CONTRACT_UPDATE_FROM_R3 (Note 719229)
Read Tables Business Transaction
Report? CRM_DATAEXCHANGE_CHECK_OLTP (Note 718929)
Check Basis Configuration Data Exchange
Set Message Log Level
Display BDocs for a Business Transaction
Compare Document Between CRM and R/3
Incorrect Documents Created in R/3
Delete a CRM One Order Document
Generate Missing Replication Records
Setting Completed Status for a Sales Document
Delete Links to PRCD_HEAD
Delete Messages from Error Log
Delete Superfluous Replication Records
Delete Orphaned CDB Entries
Contracts from R/3: Adjust Doc. Flow
Report CRM_START_REQUEST_FROM_CRM (Note 719960)
Resend CRM Documents
Report CRM_R3_CHECK_STATUS? (Note 721107)
Compare Delivery – and Bill. Status Between R/3 and CRM
Check the SAP Note 718751 for more details how to install the SAP CRM Data Exchange Toolbox.