SAP CRM Web UI: UI Guidelines for CRM WebClient User Interface provide overview on SAP CRM Web Client User Interface (UI). The CRM WebClient UI is a set of various UI elements allowing the user to display, search and maintain Data. It will give the main SAP CRM Web UI Architecture.
SAP CRM Web UI Architecture
The Main Parts of SAP Web UI pages are:
Navigation Bar?
Header Area
Work Are
Let's details some of these SAP CRM Web UI Elements
This following?will cover only Pages Types and Navigation Bar.
Check also this post to learn?SAP CRM WebUI: How To Enhance a Web UI Component
CRM WebClient Elements
Page Types
The page type define the screen to be displayed for the SAP CRM user.
There different kind of Pages in SAP CRM Webclient:
Header and navigation bar
Navigation bar provides an easy navigation to the WebClient pages and data.
Home page
The home page is the starting point to user containing the most relevant link to tasks and data for a specific user.
Work Center Page
It is Top-level page regrouping shortcuts for CRM components.
Search Page
The name is obvious… it enhances?CRM components with search functionality.
Overview Page
Overview Page is an interface for displaying and editing data (for specific business object).
It is composed by Assignement blocks to header data.
Edit Page
Designed as Form Views, Edit page allows to maintain data
Header and Navigation Bar
CRM UI WebClient is designed around 3 areas: header area, navigation bar and work area.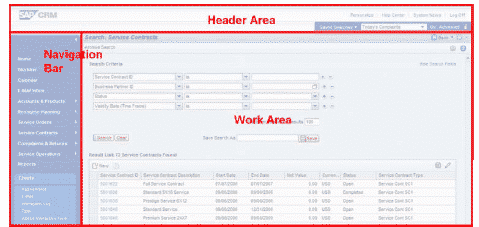 For the full list of SAP CRM WebClient UI :
Work Center Pages and Reports Page
Overview Page
Advanced Search
Dialog Boxes
Tables
Hierarchies
Guided Maintenance
Buttons
Visual Design
Scrolling
Message Handling
Personalization
Authorizations and user interface Behavor
UI Texts
Please refers to the following SAP CRM WebUI Guidelines PDF.